When planning your home renovation, don't forget a wine cellar renovation as well. Having your own wine room is an investment in your home's value and your own lifestyle.
Are you giving your wine collection the appreciation it deserves? You can instantly recognise the difference between a Mornington Pinot Noir and a Beechworth Shiraz and your collection of vintages is becoming quite impressive but you still store your bottles in a boring old wine rack.
Isn't it time to commit to being the connoisseur you really are and install your very own home wine cellar?
Having your own wine room is an investment in your home, your wine collection and your lifestyle and here's why it should be a part of your next home renovation or extension.
PRESERVATION
Wine is quite temperamental and sensitive to the conditions it's stored in. It's for this reason that the best wine rooms are climate controlled.
Wine needs to be stored at a cool and constant temperature to avoid them cooking or the moisture in the corks drying out. Wine is also sensitive to wild fluctuations in temperature so the cold winters and scorching summers we get here in Melbourne can really put your collection at risk.
Regulating the humidity where your collection is stored is just as important as controlling the temperature. Humidity under 50% can dry out your corks but humidity over 80% will promote the growth of mould.
UV rays can prematurely age your wines which is why cellars and windowless rooms are perfect for storing your collection. You'll even find that the best wine rooms use incandescent bulbs to light the room as they don't emit UV rays like regular household lights.
Wines don't like being shaken or disturbed. The fear is that unnecessary vibrations can prematurely start the chemical reactions in the bottles before they are opened. Serious collectors make sure their cellars are solid and don't allow for bottles to move in their racks.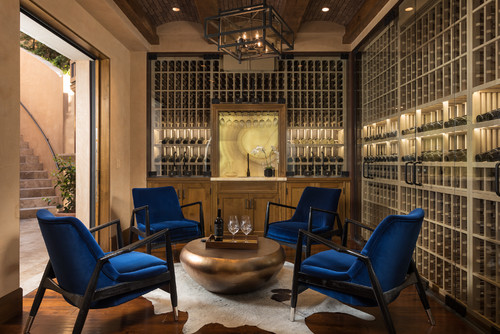 ORGANISATION IN YOUR RENOVATION
You'll find the best stocked wine rooms have their bottled ordered by specific bottle size, bottle shape, varietal and year. Having a meticulously organised wine room is essential to the connoisseur's experience. The collectors who do this properly, know exactly what's in their cellar and even have a planned 'drink by date' for every bottle they own. They update every time they get a new box and they rotate the collection every year. A disorganised collection can mean that special bottles get missed and even forgotten.
AESTHETIC APPEAL AND INVESTMENT
Wine cellars and rooms aren't just an extra storage place in your house. They become focal features in your home which just enhance the simple act of having a glass of wine. Even selecting a bottle to open becomes a delight in a well organised room. The best wine rooms use the space not just store wine but accentuate the have a feature wall, arch or even an art space.
Upgrading to a room or cellar also has the added advantage of being able to store bulk wine orders. Buying wine in bulk is excellent value but without ample storage space, your favourite wines just stay in a cardboard box.
In addition to aesthetics adding a wine cellar to a house immediately increases its market value. The house is now set it apart from other houses in the street and the suburb.
As a connoisseur, adding a wine cellar to your home is best decision you can make. Talk to us about installing a wine room which suits your needs, compliments your home and showcases your wine collection.