Luxury Home Builders Melbourne
Period Extensions & Designs, in conjunction with our partner Lincoln Homes, is a team of premier custom home builders serving some of Melbourne's most exclusive suburbs. With extensive experience and an award-winning design team at the helm, you can rest assured that we will turn your dream of a luxurious home into something you will truly be proud of. 
Our team pays close attention to every aspect of your project and works with you throughout every step of the process. Our main goal is to build a house that exceeds your expectations. 
With over 30 years of experience, we have unparalleled expertise when it comes to designing, building, and finishing your bespoke luxury home. We have fine-tuned our processes to ensure we add a touch of luxury and sophistication while also ensuring our fundamental qualities are not compromised. This includes unmatched quality in craftsmanship and client-centric customer service.
With every project we take on, we aim to exceed our clients' expectations. We begin the process with an in-depth consultation in order to understand what your plans and ideas are and what the vision of your new luxury home is. Our experienced in-house architects and designers will work closely with you to gain an intricate understanding of exactly what you want with your new home.
Starting with a blank canvas, our team of designers, architects, and engineers work to create your vision of luxury. Designing a bespoke luxury home involves a considerable investment in money and time, which is why we work closely with you to ensure we bring your vision to life. 
From there, our team of architects and engineers will visit your property to conduct all the necessary tests before making structural drawings. With a proper understanding of your property's contours, soil reactivity, and location, our experienced team of architects and engineers will design a house that complies with all council requirements. Above all, we'll create a house design that is commensurate with your sense of style.
Aside from making the architectural designs, we'll also handle the interior design at this stage. This ensures you have an intricate understanding of even the smallest of details right from the very beginning.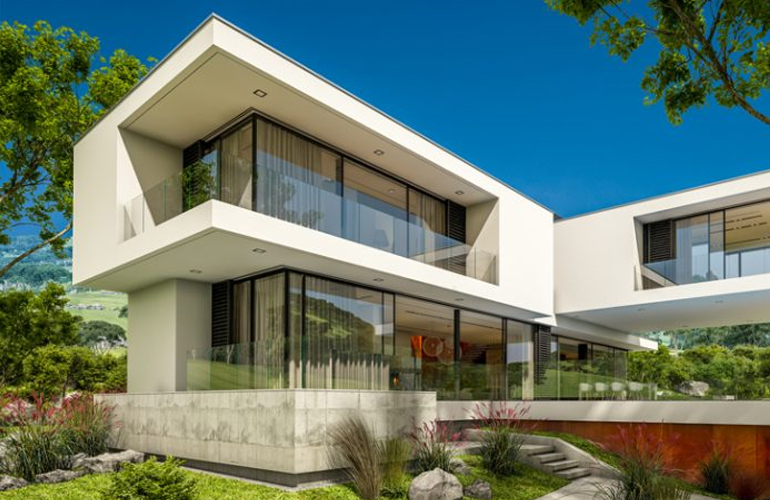 Once we've finalised a design and you've approved it, we promptly apply for the building permits. Additionally, we will prepare the HIA building contract. 
After the contract has been signed and we've secured the building permits, we start to build. At this stage, we'll source the highest quality construction material and bring in our professional trades to build your luxury home.
From there we will assign a site manager to oversee the entire project and ensure the building process runs smoothly. They will make sure that our high-quality standards are met during every step of the process. The site manager is also responsible for keeping you informed of all the latest developments. They will arrange regular site inspections so you get to see the progress we are making.
After completing the project, the site manager will take you through the house so you can thoroughly inspect our work. If you're satisfied with everything, we'll finalise the settlement and hand over the keys to your new luxury home.
Custom Builders
Period Extensions & Designs is a premier team of custom builders with experience working in and around Melbourne and have worked in some of the most lavish suburbs on some of the most luxurious homes. We've built up a reputation for helping homeowners build their ultimate luxury homes by offering our unmatched custom builders services.
Bespoke Home Builders
Every house we design is customised to our individual client's needs. This means you can rest assured that your home will be completely unique in design, fit-out, and finish. We take into full consideration your specific needs and requirements so we can build your home from the ground up and bring your vision to life.
Luxury Home Design
Right from the design stage, we focus on creating a luxurious home that complements your lifestyle and taste. Drawing from our vast experience in building prestigious homes for Melbourne homeowners, we ensure your home is not aesthetically pleasing but also luxurious, comfortable, and all-around functional.
Please call Period Extensions & Designs for the highest quality bespoke home builders Melbourne has to offer. Our team of award-winning designers and architects are waiting to assist you to bring your ideas for your luxury home to life.
If you're building a new home, choosing custom home builders in Melbourne is your best bet to get a bespoke custom designed house to suits your specific needs. Based on our experience, we know that every homeowner has unique needs and ideas about their new luxury home. 
Add to that the fact that there are budgetary and lifestyle considerations when building your luxury home not to mention differences in property shapes and sizes. With the above in mind, you need experienced bespoke home builders to take care of all the above considerations during the construction of your home.
Why Should I Choose a Custom Home Builder?
Generally, it takes longer to construct a custom luxury house than to build an average standard-built home. On the lower side, custom home builders can take about 12 months to complete a bespoke home, particularly for simple single storey homes that do not have complex designs.
For more complex designs and/or large construction such as expansive two-storey homes and homes with an extravagant design, the construction process will take a bit longer, somewhere between 12-18 months. In a nutshell, there is no standard completion timeframe as every project is unique and has its own construction timeframe.
How Long Will It Take to Build My New Luxury Home?
Yes! Being bespoke home builders, we appreciate the need to keep our customers abreast with the latest developments with their home building project. In fact, we encourage our customers to inspect the construction progress of their luxury homes to ensure they are satisfied with the processes and quality of workmanship.
Can I Inspect My New Luxury Home as It's Getting Built?
In our experience, every new luxury home expresses an individual's unique desires, ideals, and needs. The entire house is a collection of spaces designed to function collectively to meet the homeowner's needs. With this in mind, we approach every luxury home build project in Melbourne with an open mind. 
We understand that every client has their own bespoke needs, and a standard list of inclusions might not meet the needs and expectations of every client. Nonetheless, our designers are vastly knowledgeable in matters of interior design. We'll guide you through the entire process of choosing appliances, shower and bathroom fixtures, designer tapware, kitchen fixtures, and everything else required as part of your interior décor.
Do You Have A List of Standard Inclusions For New Luxury Home Builds?
Yes! We are vastly experienced with planning applications and council permits. As such, we are better placed to handle the application process for your custom luxury home successfully. Whether you are building your home in a General Residential zone or a Residential growth Zone, our team will ensure your design meets the required standards. Additionally, we'll work with you to ensure your project meets the different schedules that councils have put in place.
Will You Help Me Apply For Local Council Permits?
Typically, the maintenance period lasts between 3 and 12 months as negotiated in the builder's contract. During the maintenance period, our bespoke home builders will be available to fix any issues needing work as you settle into your new home.
What Is The Maintenance Period On My New Luxury Home?
Book A Free Consultation Today
One of our experienced designers will contact you to discuss your renovation or extension.