Custom Designed Dining Room Renovations
In most homes across Australia, the dining room is often a space allocated for more formal occasions and entertainment while the kitchen is the place where the family gathers for more informal meals like breakfast, lunch, or a quick snack. No matter what your style is, there is a dining room concept to suit your taste. 
To achieve a custom build our team of highly experienced designers and master builders can put together the look you are after, whether it's high luxury or casual contemporary. Our goal is to help you transform your dining room ideas into reality. We would love to sit down with you and discuss your ideas and give you the professional advice you need for a successful outcome.
Why Choose Period Extensions?
When you are looking for a renovation company you understandably want the best and most professional people to work with. At Period Extensions & Designs we pride ourselves on always listening carefully to exactly what our clients would like to achieve before coming up with ideas and options for a successful result. 
We like to think that we go one step further than conventional renovation companies when it comes to ensuring that our clients are not just satisfied, but overwhelmed with the outcome. In order to do this we focus our attention on the following:
Listening – Finding out what you would like your dream dining room to look like and listening to your ideas
Professional Advice – Offering professional advice and options based on years of practical experience and how to translate your ideas into reality
Obtaining a clear brief – Preparing a plan of action based on your expectations and budgetary limits 

Creating the design – Working together to achieve an end result that you will love rather than simply giving a choice of different designs to choose from

Your own dedicated team – Right from the start, we will assign a dedicated team to handle your project with the utmost attention to detail and to the highest standards of quality.
We do all the hard work for you – When your partner with us you can relax knowing that everything will be done professionally and all details will be taken care of from obtaining all the necessary permits to managing and coordinating with tradespeople and ordering materials.
Tried and tested tips and advice from the experts – We will get you started with checklists and inspirational decorating ideas to turn your dining room into the stunning space you have always dreamed of.
Communication and coordination – Throughout the project, we will keep you up to date with progress and we are open to discussing any concerns you may have during the project so they can be addressed and corrected immediately.
Peace of Mind – All our workers and contractors are licensed and insured.
Time frames and after service guarantees – We will provide you with a time frame to complete the job and a reasonable period afterwards to fix any problems or imperfections that arise.
Achieving A Cohesive Look
When renovating any room of your home it is important to take the style and decor of the rest of the house into consideration in order to get a cohesive look. Our expert team of interior designers can help you with decorating ideas that will tie in with the style and character of your entire home.
Visually Increasing Space
The size of a room dramatically affects the way it looks. However, square meterage is not the only space that counts, visual space is key to making your dining room look bigger than it really is. There are many clever decorating ideas to achieve this including the clever use of a neutral or monochromatic colour palette or installing large mirrors. Our team of design experts is always on hand to provide you with the best solutions to your particular design challenges.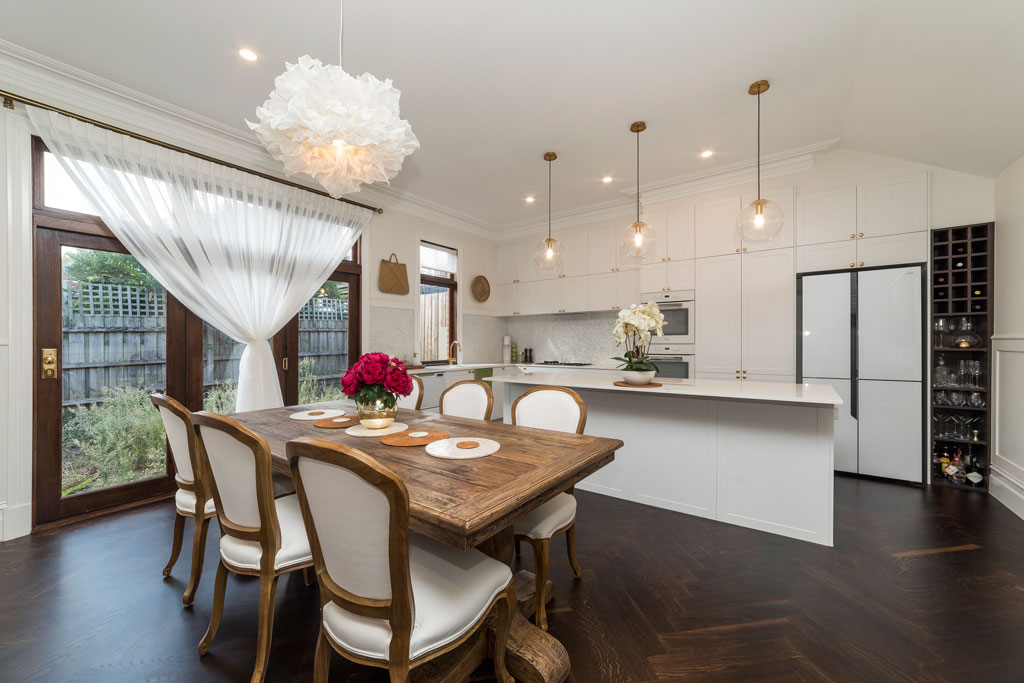 Our Guarantee Of Excellence
At Period Extensions & Designs, our excellent reputation is built on the support and confidence we have in our team of experts. We offer a 10-year structural guarantee on any building work carried out and a 3-month after-build maintenance warranty.
You can trust Period Extensions & Designs to provide you with the highest-quality renovation and extension service in Melbourne. If you are looking for the best there is please call us today to speak to one of our consultants to find out how we can make your dining room dreams come true.
Book A Free Consultation Today
One of our experienced designers will contact you to discuss your renovation or extension.