North Melbourne Home Extensions And Renovations Projects
Figures show that Australians are staying in their homes for longer today (averaging 10.5 years) compared to the mid-2000s average of 6.8 years. Some of the factors that influence people to stay and improve their homes rather than move are: 
They have grown to love their local community and have built good relations with friends and neighbours

They live close to work and schools with easy commutes

The costs of selling and buying a new property are significant and can rather be spent on renovating their home to suit their personal lifestyle

Renovating and extending a home adds considerable value to their property. 
A major renovation can take care of many issues experienced in older homes such as rising damp, rotting timber and dilapidated wiring. If your location still fulfils most of your needs, it may be a good option to explore the many benefits of remodelling or adding extra space for your growing needs. Our team of highly qualified designers and master builders at Period Extensions & Designs can help you build your dream home right where you are. 
Why Choose North Melbourne?
North Melbourne is a cosmopolitan suburb situated just north of the city. Independent people of all ages are drawn to the warm neighbourhood feel of North Melbourne with its café lifestyle mainly centred around Errol Street. Once a working-class suburb, it now has a stylish shopping strip with award-winning cafes, a lively arts scene, a variety of accommodation options including magnificent terrace houses, cottages, and apartment complexes. 
North Melbourne Demographics
The population of North Melbourne is just over 15,000 with independent youth making up over 44% maturing and established independents making up just over 17% and older independents around 10%.
Almost 25 % of people in North Melbourne are married with the main occupations being around 42% professionals, nearly 13% clerical and administrative workers, just over 12% managers, nearly 10% community and personal service workers, around 8% sales workers and just over 7% technicians and trades workers.
Almost 15% of homes in North Melbourne are fully owned and around 17% are in the process of being purchased by home loan mortgage. The median individual income is $613 per week and the median household income is around $1,230 per week while the median mortgage repayment is around $2,000 per month.
Maturing & Established Independence
17.3%
North Melbourne Lifestyle
North Melbourne provides the ideal opportunity for an independent, inner-city lifestyle with younger people especially embracing the busy cultural life and unique location with easy access to the city. There is a charming village atmosphere with cute cottages comfortably sitting alongside magnificent terrace mansions. 
Go for a swim at the North Melbourne Recreation Centre or catch the latest show at the Comic Lounge. Pick up some local arts and crafts at the Thread Den or listen to band music at the cosy Town Hall Hotel. Errol Street is where it all happens with great cafes, restaurants and food stores. 
Roam a little further and you will find surprising places tucked away like the tiny wonderland bakery called Beatrix. You can take a leisurely stroll to the city but there are also bus lines, tram lines, and train lines at the North Melbourne Station.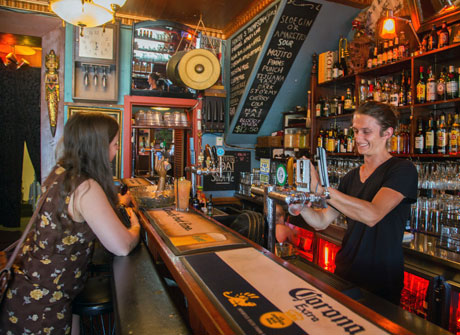 Types Of Homes In North Melbourne
Single and double-storey Victorian terrace houses are the signature look of the suburb while new apartment complexes add a contemporary flair. Charming worker's cottages keep the working-class history of the area alive however many have been renovated by people who see the benefits of fixing up rather than paying a premium price for a new house. If you are into period houses, there are many glorious Victorian terrace homes available. 
The North Melbourne Town Hall is a grand focal point of the architectural style of the area, however, as the area started to develop warehouse conversions became more common and new apartment complexes have sprung up here and there.
North Melbourne Median House Prices
The median price in North Melbourne for houses is $1,150,000 so it's easy to see why there is so much demand for the area. Based on that, why would you move to another suburb?
If you have decided to stay rather than move or even if you are considering purchasing a property in North Melbourne, give us a call and one of our design and renovation experts at Period Extensions & Designs will be happy to discuss the various options that are available to turn your existing house into the home of your dreams. 
Buy
$2,292,500

2BR
-
3BR
$1,920,000
4BR
$2,310,000
Buy
$700 PW

2BR
-
3BR
$650 PW
4BR
$885 PW
Buy
$826,000

1BR
-
2BR
-
3BR
-
Buy
$390 PW

1BR
$300 PW
2BR
$420 PW
3BR
-
Book A Free Consultation Today
One of our experienced designers will contact you to discuss your renovation or extension.