Bathroom Renovations Melbourne
As part of our complete home renovation designs we can also build your dream bathroom.
Custom Bathroom Renovations Melbourne
With over 30 years of experience in home renovations and interior design, Period Extensions & Design is the number one choice for your bathroom renovation in Melbourne. We can help you achieve your dream bathroom.
Our interior decorators are ready to help you with design ideas to give you the bathroom you have always dreamed of.
We cover all aspects of a complete bathroom renovation including the following:
Thinking about a bathroom renovation in Melbourne may not seem like a big renovation project however, when done right, it can significantly increase the value of your period home. There are some fairly minor changes and personal touches you can make such as the following:
Beautiful bathroom floors can transform the whole room. We can help you choose the right flooring for your bathroom space. We only use highest-quality and most durable materials like:
Choosing the right style, colour, and material for your vanities and cabinets is very important. It can make or break the overall style of your bathroom makeover. Period Extensions & Designs will guide you and help you make the right choices for your remodelling project. With our help, your bathroom might just become the best room in the house!
Fixture, Decors And Accessories
Finishing touches matter. The colours, shapes, design and style of your bathroom fixtures and fittings can drastically change the look of the space. However, making the right choices can be challenging. You can easily get lost in a sea of design options. That's why we are here! We can help you stay on track with your bathroom renovation – this includes the budget and the design. Some of these options may include:
Reasons Why You Should Renovate Your Outdated Bathroom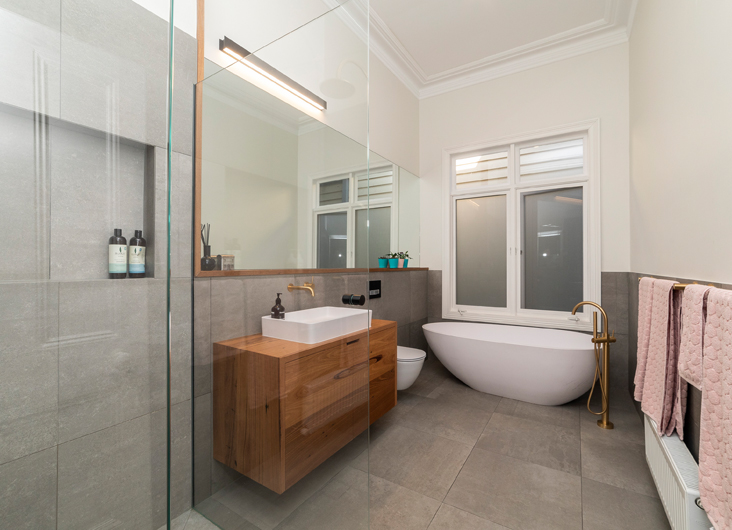 Why Choose Us for Your Bathroom Makeovers in Melbourne?
We have over 30 years of experience in renovations, extensions, and designs. We provide award-winning services including:
Building and Design – we help design the bathroom renovation to maximise the space and functionality.
Interior Design – We have Melbourne's top interior designers on our team. Achieving the right style and function will be easy when you have the best of the best working
for you.
Project Management – we will do the hard work for you including managing the project so you can relax and avoid the headaches that come with project management.
Finishing Touches – we are there from start to finish to ensure every little detail is taken care of.
Exemplary Customer Service – we give you regular updates and our team is always available to assist you, that is a guarantee!
Service Guarantee – We provide a 10-year structural guarantee and a three-month maintenance warranty for every renovation and extension project we do. We will support you from start to finish and beyond.
Period Extensions & Designs
Period Extensions & Designs provides you with an expert touch to balance the old and the new, classic style combined with innovation. Our goal is to breathe life into your vision and make your dream space become a reality.
Your dream bathroom is just a phone call away. Please call us now for a free consultation and quotation on 03 9882 5255. At Period Extensions & Designs, we listen, we design, we build, we support. Let's work together to achieve your dream space!
Book A Free Consultation Today
One of our experienced designers will contact you to discuss your renovation or extension.