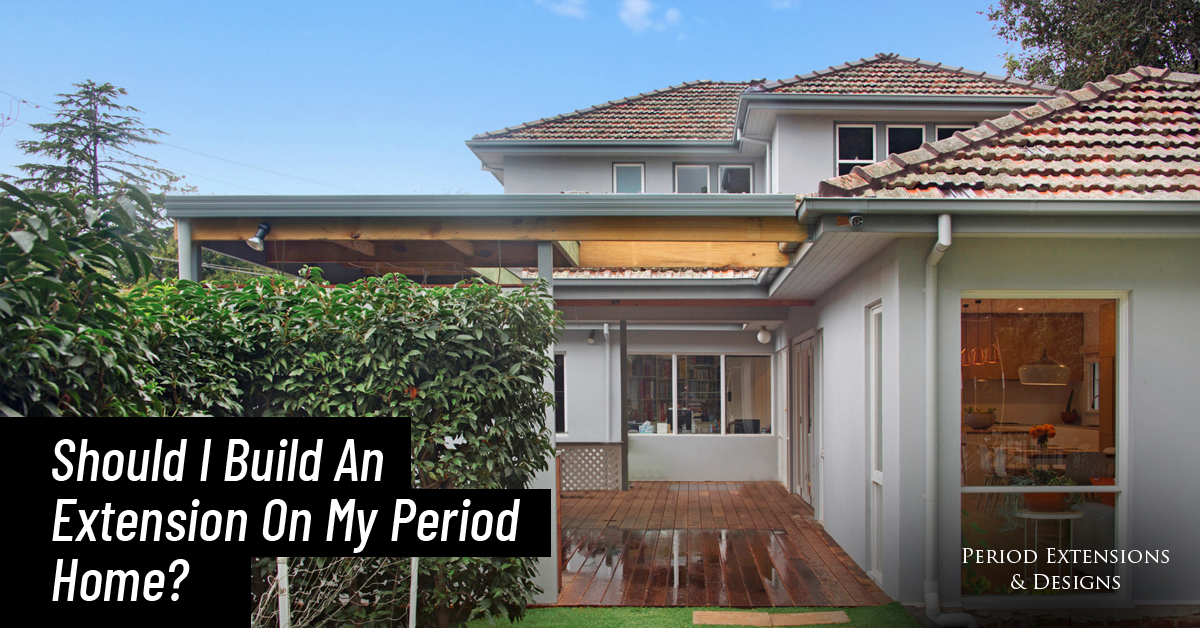 There are two main reasons people build home extensions on their period home in Melbourne – necessity or to add value. However, the most common reason people build an extension on their house is the basic need for space.
When you have a growing family and your space is becoming cramped, it is time to extend. Or, maybe you are planning to start a family so are thinking ahead?
Then, of course, we all know that a home extension can improve your house aesthetically and increase the market value, so can also be a worthwhile money-making exercise.
Whatever the reason may be, there is no doubt that a home extension adds value to your property.
Things to Consider Before Building an Extension
Budget – Building an extension can become a money trap if you do not plan ahead and set a budget. How much are you willing to spend on an extension? Is it enough for the extra space you want to add? Do some research so you can make an accurate estimate or consult with a builder or contractor so you know what to expect and can set an accurate budget.
Timeline – Do you have a deadline for the project? Do you need the extra room before your baby is due? It is important to set a timeline and plan the project around it.
Scale – How big is the new space you are planning to add? This is important because your timeline and your budget mainly depend on the scale of the project.
Do You Need to Move Out During the Build? – This is important because having some ongoing construction happening in your current home can be a major inconvenience. Therefore, you may need to actually move out so the construction crew can work without any disruptions and you can stay out of the way. However, staying in a hotel or temporary accommodation for months on end means more money spent.
Other considerations – Building an extension means you may need some additional work done on your plumbing, heating and electricity. This will then add to your long-term ongoing expenses so you need to check if you have enough room in your monthly budget for the additional utility expenses.
When you have ticked all these boxes, then it's time to go to work.
The Design
Are you extending your kitchen, adding an extra room on the second floor, or adding a family room? The design depends on what space is actually available.
This will affect your timeline and budget. It will also help decide if you will be building on or off-site.
Will your extension compliment or contrast the main building? While most people go for a cohesive design that will blend in naturally with the existing house, a complete contrast can work well too.
Building Permits and Regulations
When carrying out the design phase of the project, there are certain building regulations and permits that may be required.
Furthermore, here are some other factors you need to keep in mind:
Structural Integrity
Ventilation
Fire safety
Damp proofing
Other specific factors
A professional builder will have a thorough understanding of all the permits and regulations required and can save you a lot of time by handling this process for you.
They can also take care of the other factors noted above such as structural integrity and ventilation.
Project Management
Managing a build requires great organisational skills, patience, high levels of problem-solving and decision-making skills.
This is a huge undertaking and isn't really suited to the average homeowner, particularly if they don't have any sort of experience with building and renovating.
Therefore, it is strongly recommended to utilise the services of an experienced professional to help with the designing and construction of any renovation you are planning, particularly where a period home is concerned.
Insurance
Consult your current insurer and check if they can cover the build. The home and the renovation must be covered before you start construction.
Most of the time, your contractors will have insurance. However, you need to make sure you check there are no loopholes and potential issues with the policy coverage.
Have Fun
Enjoy the process. Let this build be a fun, learning experience. Building projects like an extension is usually stressful for home-owners. It doesn't need to be. Stick to the plan and have fun doing it.
Finishing Touches
The best part of any build is the furnishing and decorating. You have a blank canvas waiting for your personal touch. Keep it clean, classy and functional.
Final Thoughts
Whatever your budget is, make sure you come up with an overall cohesive design that you're happy with. After all, you are the one who has to live with it.
Designing your extension is critical to the overall outcome so you don't want to leave it to chance. If designing is not your strong suit, hire a professional to do it.
Furthermore, if you don't have much experience in building or extensions, the best way to tackle the project is to hire professionals who have a proven track record of success.
If you are planning on adding an extension to your period home, then look no further than Period Extensions and Designs.
Please call us today on 03 9882 5255 or contact us through our contact form and let us help you design and build your dream period home extension.