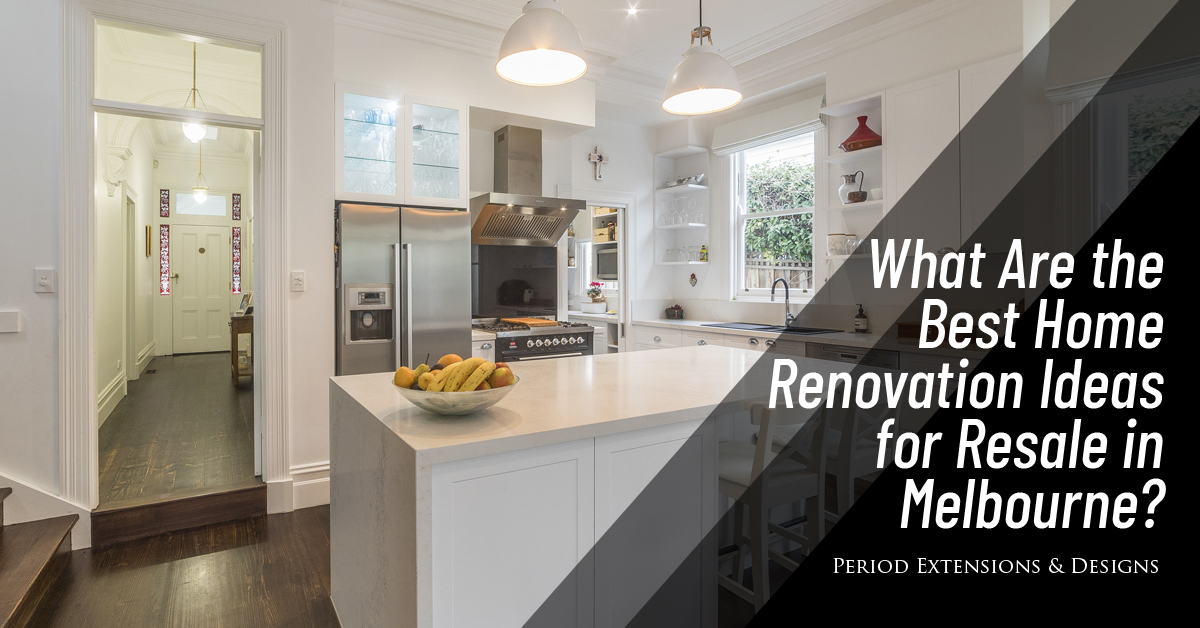 Home renovations and extensions, when done right, can significantly increase the value of your property. An upgraded modern bathroom or even some classy floor tiles can make your home look and feel that much more luxurious.
And when you are planning to sell your property, the aesthetics cannot be underestimated.
While some buyers look for properties with great potential, most look for a clean, well-maintained and ready to move-in homes. And in a very competitive market, upgrades, unique features, and luxurious additions can put you ahead of the competition.
These things and more can help sell your house fast and at the price you want. When selling a property, it is not just the resale value that matters, it is also important to close the sale as fast as possible and this is where renovations can help.
Important Considerations Before Investing In Home Renovations
What are your renovation goals?

Understand which parts of the home yield the highest returns.

Set a budget.

Work with an experienced design and build team. 

Will your design concept and style still be relevant after five to ten years?

Plan and set goals.
Renovations are major projects whether you are just renovating a single room or the entire house. It has to be planned and executed correctly in order to gain maximum benefit.
Let's take a look now at what renovations and extensions can potentially give you the best ROI.
Open Concept Floor Plans
Open concept homes are very popular and will continue to be so for a long time to come. You can open up your space by taking down walls to create an open space concept.
You can keep the original features of your home like wooden beams while you take down walls and barriers that make the space look and feel cramped.
A majority of buyers in today's market are looking for open concept floor plans and a large kitchen. 
Expected ROI: 50% – 95%. 

Kitchen Remodel
There are so many things you can do to upgrade your kitchen and completely change the vibe of your home. The kitchen is the heart of the home so a major upgrade or a minor renovation can improve your resale value significantly.
Here are some improvements and changes you can make that can increase your property value:
Update the floor plan. Older kitchens usually have floor plans that no longer work with today's modern technology and innovations. Keep your floor plan open and as simple as possible. Plan the space so that you have a good flow so your new kitchen will function smoothly.

Consider upgrading old tiles to marble floors. Marble floors add a touch of luxury with its shine and radiance. This simple upgrade can make potential buyers fall in love with the space.

Upgrade your kitchen splashback. Remove your outdated tiles and put in subway tiles to give your kitchen an updated modern look. Updating your splashback can make a big difference to your kitchen's overall appearance.

Restore or add new granite benchtops. Sometimes a single element can elevate an entire space. Benchtops take up a big space in the kitchen and can become the centrepiece when you choose the right design and materials.

Add more storage. More practical storage spaces can help to keep the kitchen organised and function better.

Install new, modern, and practical furniture, appliances and fixtures.

Use creative lighting and modern lighting fixtures.
Expected ROI: 80% – 90%
Garage Renovation
Sellers usually underestimate garage spaces. In fact, we usually don't give it too much thought. Your garage can increase the value of your property if you are able to maximise the space and add more functionality to it.
Add more cabinets and drawers for enhanced storage options. You can also replace your old garage door with a modern automated alternative.
Expected ROI: 90% – 98%
A New Deck
Outdoor living spaces are also a major factor that attracts buyers to a house. Outdoor living spaces add functionality and give you more options when it comes to entertainment.
Outdoor spaces like a new deck help buyers to imagine using the space with their family and loved ones. A potential buyer needs to be able to see and imagine themselves using the space.
Design a deck where families can eat and cook a BBQ. Install a hammock or comfy furniture where everyone can relax and enjoy themselves. To really enhance the space, consider building a veranda or installing sail shades or some form of shelter.
Expected ROI: 75% – 80%

Bathroom Upgrade
Bathrooms are one of the biggest considerations for buyers when looking for a new house. When renovating, upgrade the bathroom and give it a new modern look.
There are so many options with bathrooms. Shower screens, taps and fixtures, tiles, skylights, cabinets behind mirrors – you are only limited by your imagination.
Expected ROI: 80% – 92%
Final Thoughts
Home renovations are major undertakings that take a lot of planning and expert knowledge of construction and design to get the best results.
Although DIY projects are okay, hiring professionals who have years of experience in renovation and design is always the best option. 
By doing so, you can stick to your budget and design concept without making major design and building mistakes, which in turn lead to delays and other issues which can end up costing a lot of money.
Are you planning to renovate your home? At Period Extensions & Designs, we have updated our business processes so we can continue to serve you during the COVID pandemic.
Whether you need help with the design or the actual renovation itself, please call us today at Period Extensions & Designs on (03) 8658 1340 or contact us through our contact form.