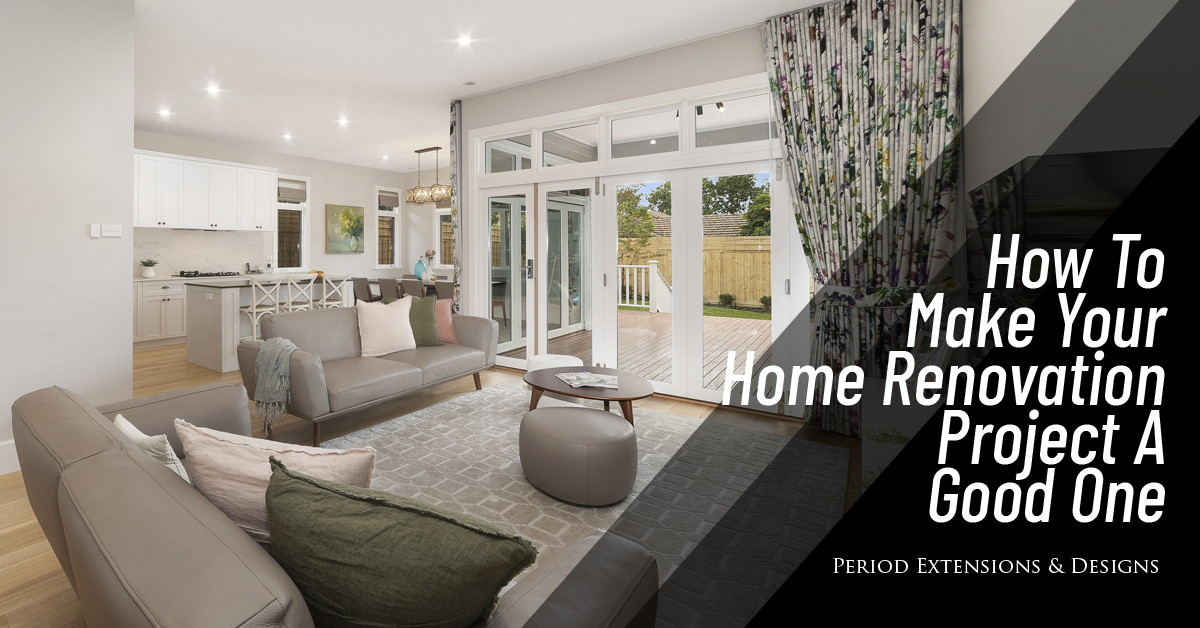 Taking on a home renovation project is exciting but can also be intimidating. Unless you have an unlimited budget to cover everything that may go wrong, you need a good builder who will ensure your project will be on budget and on time.
Before you start any renovation project, you have to make sure that you are 100% committed and are ready to invest both time and money into it. Uncertainty about what you want can lead to multiple design changes, delays, and mistakes that can cost thousands of dollars.
We have put together a list of easy steps you can use as a guide when undertaking your own remodelling project. This list can be used as a guide to help you avoid the many pitfalls experienced by others.
Planning
Planning is perhaps the most important part of the renovation process. In fact, it is the most important part of any build. This is where you consider all the factors relating to the build, including design, budget and duration of the build.
Budget – make sure you have enough money to cover the costs plus some contingency in the budget in case there are delays, accidents, and mistakes during the build.
Timeline or Schedule – It is important to set a timeline for the completion of the project. This will help you stay within budget and achieve a cohesive build.
Design – Sit down with your designer, architect or draftsman to come up with the design of your dreams that also falls within budget and can be completed within the time allocated.
Choose the Right Contractor or Builder – Hiring the right builder or contractor means being able to stick to the budget and timeline while achieving a high-quality build. Put quality of work ahead of price when it comes to hiring a contractor. Check out their previous projects and talk to former clients. Don't just jump at the cheapest option.
Demolition – We highly recommend you hire professionals to carry out the demolition and subsequent build. A professional will have the expertise to do it right and avoid any mishaps. Furthermore, they can dispose of the building debris more efficiently than perhaps you may be able to. You also need to be aware of the presence of asbestos on your property, which will require professionals to demolish and dispose of as per the regulations.
Electrical and Plumbing
Once the space is cleaned and is ready for the next stage, you or your builder can start installing the HVAC, electrical wiring and plumbing system. This is important because the site will require an inspection of your electrical, HVAC, and plumbing system before you and your builder can continue the work. Make sure everything is in order so you will pass the inspection and avoid any delays and re-dos.
Drywalling and Framing
Only when you have passed the electrical, plumbing and HVAC inspections can you start the following:
Installing the drywall
Moving and constructing walls
Adding new support beams
Putting in door and window openings
Painting
The painting process should be the fun part if you are DIY-ing your renovation. You have a blank canvas to paint and design your dream space. Choose the right paint that will complement or contrast the existing building so you can get a cohesive and unique area.
Cabinets and Fixtures
Allow the paint to dry completely before you start installing cabinetry, lighting and fixtures including sinks, faucets, showers etc.
Installing Doors and Windows
When all else is done, you are ready to install your doors and windows before you can start bringing in the furniture and decorations and putting in hardwood floors.
Install Flooring
The flooring is one of the last things to be installed so it doesn't get scratched, or damaged during the renovation process. Once the flooring is done, you can then install the carpets or laminate tiles or whatever finish you have decided upon.
Clean and Finish
Once you are done, make sure you work on the finishes and clean up so the space is ready for moving in.
Decorate
The room is not completely finished until you have brought in the furniture and accessories. This is where you can add a personal touch to the newly renovated space. Make it yours.
Congratulations, your renovation project is complete!
Final Thoughts
Home renovations can be exciting but they can also be overwhelming and a lot can go wrong if you don't have the necessary experience.
Professional project managers know the dos and don'ts that can help keep you on budget and on schedule, not to mention deliver the best results.
For all your renovation and extension projects, trust only the best in Melbourne. At Period Extensions & Designs, we combine award-winning designs with down to earth service that is second to none. Let us help you bring your vision to life!
Please call us today at Period Extensions & Designs on (03) 8658 1340 or contact us through our contact form.